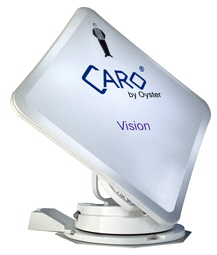 Fully automatic satellite dishes and satellite domes opens up a whole world of TV/Radio entertainment with a bewildering array of programs on offer. The system works by receiving signals from one or more orbiting satellites 22,000 mile above us in space, the signal is collected by a satellite dish and focused by that dish into a narrow beam and sent to satellite receiver via the LNB on the end of the arm.
Satellites, in the main are not affected by geographical locations, but do have limitations in terms of there transmission foot print, this is the area in which the signal is at its strongest. With this in mind we can say that they do not suffer from pointing problems, although aliment is critical, thank fully this is a thing of the past with our fully automatic satellite systems .
With all the UK satellites broadcast all regional and national programs right across the UK and central Europe you can receive all your free view and Sky local, regional and national programs all the time , but this location dependent. We offer all types of satellite equipment including manual and fully automatic dishes, from Camos, Oyster, Crystop and Karhrein, fully automatic sat domes, from KVH Trackvision and Camos Sat Dome and the new Maxview Satellite dome.
We also offer a range of 12 volt satellite free to air receivers, both in HD high definition that works with FreeSat and standard definition, We offer a nation wide fully mobile satellite dish installation service