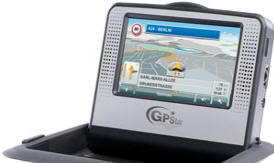 The new GPStar range of fully installed navigation products has been designed with "greater security in mind" and when installed looks similar to the manufacturers original equipment and puts a lot of daylight between it and the rest of the windscreen 'sucker' systems. Welcome to a new generation of clever, more upmarket sat nav.
With theft of portable universal nav systems running higher than ever, security has to be high on a lot of customer's agendas when they read statistics saying how many cars are being broken into for a system which can easily be sold second-hand for three figure sums. a target of crime and you don't have to take a bulky unit with you every time you leave the car. An added bonus is the system is solidly mounted so makes for a neater install without wires trailing the dash or the worry of the unit going flat if you don't have the cigarette lighter lead with you. Safety is also worth mentioning remembering that on top of increased security, the unit is also secure in position so in case of an accident it's not going to become a potentially lethal flying object in the car!
This integrated system is way harder to steal from a car as it's built-in to the dash top. The system is available as either a car specific model or as a universal unit which has a long list of applications including popular models such as Ford Mondeo, Focus, S-Max, VW Touran, Golf, Polo, Mitsubishi, Toyota Yaris and Avensis, Mazdas, Suzukis and many more. The simplicity of this system makes you wonder why it hasn't been done already. Some higher class customers with more executive cars would certainly prefer this system to a sucker system as it suits their car and image better.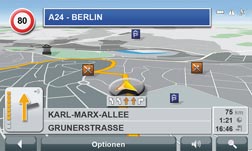 Based around Navigon and Navteq technology, this system is tried and tested for up to date mapping and a superb GUI. The unit comes supplied with 2Gb of European mapping on SD card covering most countries you need from Albania to Switzerland expressed in up to 19 different languages. The screen is a 16:9 format touch screen 4in LCD with LED backlighting. The front face of the unit also has a pair of stereo speakers built in. TMC is available as an option.
The GPStar comes supplied with a flush-mount mounting bracket, which can be fitted to the top face of the dash where a lot of cars have a dash panel already. You have the choice of the list of model specific panels or a universal mount panel. The unit folds flat to keep it out of sight and opens with the press of a button. By mounting the GPStar in the this panel it not only looks very OE but it keeps the GPS system within eye contact of the driver but not cluttering the screen area and obstructing the view of the road. Not only that, it's not leaving unsightly sucker marks on the screen which are a dead give away to potential thieves that you more than likely have a few hundred pounds of sat nav in the car. GP Star starts from £549.99 fitted