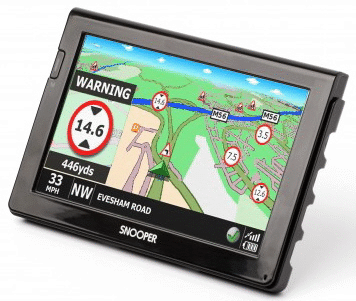 VENTURA is the first portable sat Nav system to include dedicated routing designed specifically for caravans and motorhomes - plus Snooper's multi award winning speed camera location technology. First launched on the S2000 with a 4.3" LCD display, Ventura has been a huge success and welcomed by caravan and motorhome enthusiasts across Europe
The Snooper S7000 VENTURA satellite navigation system is the result of many months of development based on our research of the industry and feedback from the 1000's of caravan and motorhome users already using the S2000 Ventura. As a result VENTURA is the most comprehensive portable sat Nav system designed specifically for caravans and motorhomes on the market. VENTURA uses Navteq transport data at it's core, but VENTURA is further enhanced but 1000's more attributes combining to give far more comprehensive cover of hazards on more roads than any other system on the market.
The S7000 incorporates all the features of the S2000 VENTURA but incorporates a large 7" display. This larger format display makes it much easier to view any potential hazards to your vehicle such as weight and height restrictions, plus it makes it possible to display all turn-by-turn routing instructions in a larger format making them much easier and safer to read whilst driving.
In fact everything about the S7000 VENTURA is bigger and better. It is easier to enter addresses and scroll through the systems menu as the on-screen button sizes are bigger and easier to press. Plus the S7000 incorporates more features including TMC traffic information, Bluetooth handsfree and DVB-T digital free to air television. You can even attach a reversing camera!
Please note that DVB-T will only operate in areas with a digital TV service. Reception will vary based on your location.